Evenflo Sibby Travel System grows with your baby! It can be adapted to your family's needs. If you have children that are close in age, you may attach a board for the older child who is already walking.
What is Evenflo Sibby Travel System included in the  set?
The Bassinet travel system includes a stroller with regular toddler seating, Evenflo LiteMax35 Infant Car Seat that can hold a baby between 4 and 35 pounds, LiteMax car base for parents to keep in the car, and Ride-Along Boards for older siblings.
The infant car seat is extremely lightweight, making it easy to transport and lift with the ergonomic handle. The car seat's interior is well padded to ensure maximum comfort for your infant or newborn. The LiteMax Base, a stay-in-car LiteMax Base, weighs just 6 lbs. It can fit into most cars on the market.
According to the manufacturer, the stroller can hold a child as young as 5 years old and has a maximum weight of 50 pounds. The main seat can be used for up to 2 years. An older child can ride on a stand-up board.
The inclusion of the Ride-Along Board with the stroller is amazing! This is a great accessory for an older child who walks but needs to be able to rest while they stroll.
Infant Car Seat
The LiteMax Infant Car Seat is 10 lbs in weight, rear facing and can hold up to 4-35 lbs. The height range is between 17 and 32 inches. The car seat is quite long so it can accommodate taller babies. You will be able to use it for a longer time.
It is easy to install a car seat cushions base using the 2-position recline and belt-lock.
One click is all it takes to transfer the stroller from the car base to the stroller.
This infant car seat is lightweight and easy to transport your baby around the car. This is a huge advantage as you can use the infant car seat for not only your newborn but also for a 6-month old baby who is slightly heavier. I have read the opinions of other parents about LiteMax 35. They often use this infant car seat to carry their baby in their arms. This car seat is so easy to move for parents.
Evenflo LiteMax has a full canopy and infant head support, providing a safe and comfortable ride for your baby. As the baby grows, this pillow can be removed.
Although the buckles of the car seat may feel difficult to open initially, they will become easier over time. As the baby grows, you can adjust the straps: the crotch strap adjusts at bottom, the shoulder straps adjust at the back and the belly strap adjusts under the seat padding.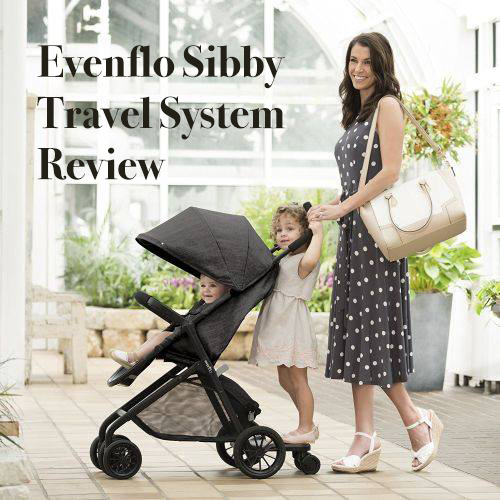 The manual also clearly explains everything so you can just follow the Evenflo Sibby Travel System Steps
Evenflo Stroller – Toddler Seat
The stroller can hold a child as large as 50 lbs/ 38 inches/ 5 years, depending on which comes first. This stroller is best for 2 year olds. It can also be used by a 3-year-old who is slimmer.
The regular seat is multi-position and faces forward so that the baby can see around. To adjust the seat angle, you can pull or push a clip attached to the strap. You can stop at any position. It is easy to lower or raise the seat.
A 3-position adjustable leg rest is included with the seat. It can be adjusted to suit the growing baby for a comfortable stroll.
You can raise the leg rest for napping. When the baby gets older, you can lower the leg rest. It doesn't get in your way even if the seat is being used by an older child or a larger child with longer legs.
The 3-panel, extendable canopy provides good coverage up to the baby's knees and hips. The stroller had no peek-aboo window at first. This was the most disappointing thing about it. Evenflo has added a mesh view window to the Sibby model.
This Stroller is a must-have if you want to buy it Evenflo Sibby Travel System
The mesh vent is located above the baby's head when the seat is fully reclined. This vent provides extra airflow and can be used to check on your baby's health if you bend slightly.
Evenflo flexlite travel system features two ergonomic handles which are a very common feature in lightweight strollers.
Single handlebars are my favorite, but these handles can be pushed with ease and comfort even on long trips. This is probably because they are more comfortable than horizontal-shaped handles.
Movability and ease-of-use
This stroller's maneuverability impressed many parents! It's easy to maneuver and turn. It turns in tight corners easily even with a 1-year-old in a toddler seat and a 3-year-old riding on the Ride-Along Board. The turning radius is very small.
Sibby handles better than most lightweight strollers and full-sized strollers. Many reviews have been written by customers, and all were amazed at how smooth the Evenflo stroller glides.
The Evenflo stroller and car seat are very simple to use. The stroller's base can be inserted into the infant car seat easily and it clicks in securely. It is also easy to take the car seat out of the base and stroller frame. It's easy and quick to move from car, stroller, and home. Everything works perfectly.
Evenflo Sibby Travel System, while lightweight and simple to use, is very strong and balanced.
The storage compartment under the seat is large. Other parents have also reviewed this stroller and all agreed that the storage compartment is spacious. This is a rare feature in lightweight strollers. You can fit a diaper bag, purse, water bottle, towel, and more in the storage bin.
It is seriously one of my favorite baskets, especially for a stroller. It's easily accessible from both the front and back (when the leg rests are raised up).
The latest version of the stroller has a storage pocket at the back. This allows you to stash small items such as a wallet or diapers.
Size, weight, and folding
The stroller is as light as an umbrella stroller and has a very affordable price! It is lightweight at only 13 lbs, making it easy to carry and lift.
The stroller is lightweight enough to be easily carried up and down stairs. This stroller is suitable for mothers who have had a C-section, or parents who are unable to lift heavy items. Sibby's small size and light weight makes it easy to transport.
This foldable purple travel system makes it easy to transport and store. Simply pull the strap under the seat fabric and the stroller will collapse. The Evenflo Sibby stroller folds down to a very small size due to its slim profile. It can fit into most car trunks easily. It can also be folded up and stands upright!
This stroller is loved by parents for its ease of assembly. The assembly takes only a few minutes. It's as simple as putting the wheels on and that's all there is to it. It all works perfectly, which you can see and hear. The manual also provides detailed instructions for attaching and assembling the infant car seats.
Evenflo Sibby Travel System includes the Ride-Along Board and a parent cup holder. It can adjust to fit the size of your beverage, making it ideal for cups, bottles and cans. When folding the stroller, remember to remove it. These accessories are not included in every stroller, especially at such a low price!